Are you new to Madrid and looking for day trips within reach of the capital where you can take a walk and escape the buzz of the city? Have you lived here for many years but not had a chance to discover some of the stunning walks available to those of us who have made Madrid their home? With the help of Hiking Madrid Kids in Madrid have compiled a list of family-friendly hikes that can be reached by public transport and are dotted around the Comunidad de Madrid.

Hiking with kids and discovering the region of Madrid
Step outside the city in any direction and you are confronted with beautiful nature. The north is crowned with mountains, the South has wilderness plains, the east and west are full of undulating hills. Read on to discover lakes, rivers, forests and fields.
Practical advice
Although spring and autumn are the best seasons to go hiking with kids in Madrid, summer walks away from the city are possible first thing in the morning as several of the walks we mention are close to café facilities that offer air conditioning and fluid refreshments. Winter walks are always a possibility as long as the snow hasn't actually hit the city centre as the suggested walks are all below the usual snow line.
1. Embalse de Pinilla
This flat circular route around the Pinilla reservoir offers winding paths through a forest for families with older children (not suitable for buggies), views of the dam at the east which includes an impressive water spout that regulates the flow of water to minimise the damage to the river bed. On the west of the reservoir are the remains of pre-historic settlement that can be visited with a Spanish-speaking guide.
Access: Bus route 194 from Plaza Castilla. Parking is available on the north side of the reservoir.
Length of walk: The full route is 14.5km; families often choose to do the section between the villages of Lozoya and Pinilla Del Valle.
What to see: the recommended stretch between Lozoya and Pinilla del Valle includes a beach where the reservoir water has receded. Alas swimming is not permitted but children love paddling and splashing around on the shore.
Highlights: Buggy-friendly with a path wide enough and sufficiently flat for trikes, scooters and any other sort of wheels. Picnic areas are dotted along the walk. There are children's play areas and cafés in both villages.
2. Patones de Arriba
Patones de Arriba is steeped in history and is well-prepared for tourists and day-trippers who enjoy visiting the quaint village with its original slate buildings, as well as cultural heritage such as a washing area with a pump which gives children an idea of what life before washing machines was like. Nowadays villagers live in Patones de Abajo (the modern village less than 1km further down the hill) and the slate village has been turned into a tourist attraction with restaurants, artisan stalls and sellers of local produce.
Access: Bus route 197 from Plaza Castilla will leave you in Patones de Abajo. By car take the A1 to the Torrelaguna exit (50km) and then follow the M102 to Patones de Abajo. Note that parking is available in both villages.
Length of walk: The Senda el Barranco walk which links the two villages is less than 1km long with a recently reformed wide path which is suitable for buggies. Setting off from Patones de Arriba there are several clearly signposted routes which can be undertaken by little legs but not with wheels. Our recommendation is route nº 2 which should be followed anti-clockwise and is less hilly and full of interesting flora and fauna. For families with children aged 8+ there is a highly recommended 5,7km guided walk (in Spanish) for birdwatchers which starts in Patones de Abajo.
What to see: Stunning views including a gorge from where you can admire the impressive canal infrastructure of Canal de Isabel II that provides the excellent tap water we enjoy in Madrid; there are panoramic views of different ecosystems, including riverside forests, olive groves and fields of grain. There are archaeological ruins to be seen and caves to be discovered.
Highlights: Apart from the views, fresh air and beauty of this corner of the region, another reason to visit is because of the quality of the dining experience offered. The village of Patones de Arriba has some lovely places to eat traditional three course lunches, which although pricey, are delicious and attract many families with young children from across Madrid. More modestly priced, less formal and equally as tasty meals and snacks are available from the small bars and cafés in the modern village of Patones de Abajo.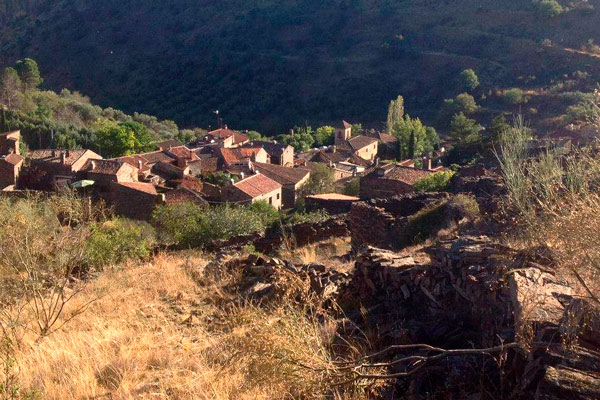 3.) Los Cerros de Alcala
This massive wide-open nature reserve is ideal for families wishing to stretch their legs and let their children burn off some energy with their scooters, bikes or trikes. Most of the paths that criss-cross this 835 hectare space are wide and suitable for buggies. The hiking routes are colour-coded: Ruta del Ecce-Homo (yellow), Ruta del Castillo (blue), Ruta de la Puerta Verde (green) and Ruta de los Tarayes (red). Remember to take water as there are no drinking fountains in this park.
Access: Public transport access from Madrid requires either a train (C2, C7 or C8) or bus ride (229 from Avda America) and then a local bus (232 from Alcala de Henares) to the park itself. The main entrance to the park is at kilometre 25 of the M-300m with plenty of free parking and a short walk to the visitors centre.
Length of walk: Ruta de los Tayares is a circular route and is 2.5km in length, with an incline of 600m which makes cycling exhilarating and worthwhile! Ruta de la Puerta Verde is 5.2km and not suitable for buggies as part of the route is through a pine forest which is well sign-posted but not particularly wide. Ruta del Castillo Arabe is 8km linear walk (4km there and back) and is fine for buggies. The Ruta del Ecce-Homo is for families with teenage children and takes 5h to complete. The views are stunning and the sense of achievement is immense.
What to see: Archaeological ruins, hills and fields with a diverse ecosystem which includes an abundance of woodpeckers, the odd grass snake and various birds of prey.
Highlights: The nature reserve visitors centre is free and has some interesting panels that show the variety of activities available in this spectacular reserve. Although the park itself does not have any amenities, there are shopping centres nearby that cater for all needs.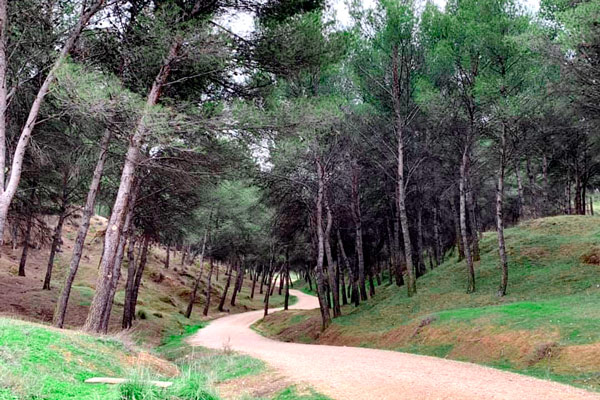 4.) Parques de Aranjuez
Moving to the South of Madrid the countryside flattens out and much of the area is given over to industry. But to the Southeast you have the historical town of Aranjuez. Families enjoy the royal palace, the strawberry train that runs to Aranjuez during peak seasons and the smaller tourist train that circles the town for non-walkers. There are also boat trips down the river. For hikers, Aranjuez is the setting off point for routes that follow the river Tagus, some of which are not designed for little legs or buggies.
Access: By bus on the 442 from Mendez Alvaro bus station, by train on line C3. Parking is relatively easy in Aranjuez.
Length of walk: Enjoy the fountains and landscaped gardens in a circular route around the Jardin del Principe which takes 1.5h to complete or wander around the renaissance Jardin de la Isla with its famous waterfall and rectangular grid of tranquil grounds where sadly only four of the thirteen fountains are still active.
What to see: A stunning palace, landscaped gardens, fountains, follies and plenty of cultural heritage.
Highlights: The Strawberry Train (2020 timetable available from 1st March here) takes you to Aranjuez in style. Once there you can enjoy the Jardin de la Isla next to the palace or the Jardin del Principe. There is plenty of shade, lots of water fountains and space for buggies and scooters in both. Visiting Aranjuez with kids is a very rewarding day trip, highly recommended by Kids in Madrid.
5. Las Barrancas de Burujón
Just over the border in neighbouring Toledo region is a stunning natural canyon that formed over the reservoir Embalse de Castrijon. The high cliffs afford some of the most amazing views of this natural wonder which is known mainly to local residents and not overrun with tourists who barely know it is there. Not to be visited on a windy day, this incredible walk is exposed to the elements but nevertheless family friendly for those who come prepared.
Access: There is no access by public transport. The carpark is on the outskirts of the village Burujón, on the CM4000 road.
Length of walk: The walk from the carpark to the panoramic viewpoint is 4km there and back. It is suitable for buggies but not for scooters as there is no fence! Saying that, this path is safe and enjoyed by many families. There is a longer circular route for those families with older children. Both routes can be found on the maps in the car park at the venue.
What to see: The "grand canyon of Toledo" which has been used by many big names as locations for their adverts for anything from soft drinks to saloon cars.
Highlights: There are picnic areas that can be accessed on foot or by car with spectacular views over the reservoir.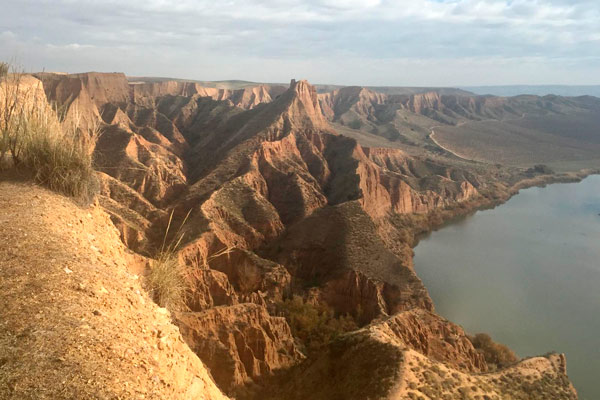 6. Valdemaqueda and Rio Cofio
86km from the city centre, to the west of the city, is one of the biggest nature reserves in the region. Following the river Cofio, this lovely spot boasts a medieval bridge, picnic areas, a safe zone to go paddling and plenty of parking places.
Access: Take bus number 645 from Moncloa or by car follow the A6 to Las Rozas and then the M505 past El Escorial, before taking the M 512 to Robledo de Chavela. From Robledo take the 537 to Valdemaqueda.
Length of walk: It is a 3km walk along a wide flat path from the village to the picnic area near the bridge, but you can also access the reserve via a dirt road that runs from Avda Las Flores and park closer to the bridge if you wish.
What to see: Enjoy the peace and quiet of the river Cofio whilst letting your children run freely in a safe environment.  Wandering off the main track and up the Cerro de Santa Catalina you come across an impressive natural pine forest, which is well sign-posted for day trippers. The only thing to watch out for are processionary caterpillars in the springtime as they can cause allergies and the airborne thin hairs that they shed can irritate eyes.
Highlights: Paddling in the cool water in the summertime during school holidays when it is surprisingly unpopulated despite its beauty and accessibility.
7. The Parks of Rio Manzanares
Why leave the city centre when there are so many wonderful walks to be done along the shore of the river Manzanares? Where the river Manzanares flows, 15km of uninterrupted parkland follows. It is no secret that we at Kids in Madrid love the 7km stretch known as Madrid Rio and which we have recommended in these posts.
Access: Depending on which stretch of the walk you would like to do with your kids, you can catch the Metro to 12 de Octubre or San Fermin to walk east along the first section of the walk in what is known as Parque Lineal and which is the natural continuation of the landscaped and more popular Madrid Rio section. The second section of this amazing linear walk is only 5 minutes' walk from Villaverde Bajo train station and clearly marked for those who choose to begin their daytrip there. The third section of Parque Lineal del Manzanares sees the river dry up and become the river Jarama. Several bus lines run along Avenida de los Rosales/ M301 with stops along the way, all of which skirt the eastern side of this park, ending at the Metro station of Rivas-Vaciamadrid.
If you are keener to walk along the 7km stretch of the river which is known as the Ruta Verde then you can take the Metro to 12 de Octubre (same starting point as Parque Lineal, but going west instead of east), Arganzuela-Planetario, Almendrales, Legazpi, Marques de Vadillo, Piramides, Puerta del Angel or Principe Pio. Download this handy leaflet (in Spanish) which shows exact distances between Metro stations and what to see / do on each leg.
Length of walk: This is a linear walk with as many variations as your kids' legs can deal with. Note that Parque Lineal has less water fountains and amenities than Madrid Rio, but is not to be avoided because of that!
What to see: The Campo del Moro park with its peacocks; the bridges of Prague, Segovia and Toledo; the fascinating modern spiral walkway designed by Dominique Perrault and, further along, the statue of Cabeza de Ariadna at the La Atalaya viewpoint in part 1 of Parque Lineal. Other fascinating features include the trenches from the Spanish civil war and the ancient elm tree in part 2 of the Parque Lineal and the surprising recovery of an ecosystem that was badly damaged during the civil war in section three of the same walk.
Highlights: Kids love the toboggan slides, the "beach", the waterspouts and the splash pads underneath the Pasarela de Dominique Perrault, situated exactly half way along the walk from either direction and incredibly popular with locals and tourists alike. Thoroughly recommended on a hot summer's day!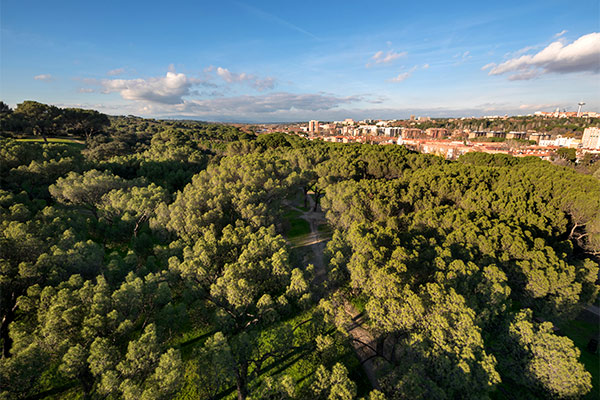 Have you been hiking with kids around Madrid? Share with us some of your favorite routes on our Facebook or Instagram and we'll be happy to try them out the next sunny weekend!
For other family adventures, check out our suggestions here
To join Hiking Madrid on one of their guided walks, follow them on Facebook or write to them by email.