Take a look at the family adventures in Madrid that we chose and be sure to add them to your calendars!
The Archaeological Complex in Carranque (Toledo)
Situated 35 km from Madrid, this working archaeological site is open all year around for visitors to enjoy. Although the website is only in Spanish, once at the site you will be handed information in English and all the signage has been translated as well, making it worthwhile to go and spend time there despite not (yet) being fluent in Spanish.
Practical information
Getting there:
By car: take the exit to Illescas Centro from the A42 and follow the purple road signs to the "parque arqueológico". Parking is free and plentiful.
By bus: catch the 464 bus from Plaza Eliptica in Madrid or the 468 bus from Getafe central station. Both lines pass through Carranque although its best to ask which stop is closest to the beautiful and well signposted Camino de Don Quijote path which is shady and pleasant to walk along. It takes roughly 30 mins to walk along that path from Carranque to the archaeological site.
Prices: 5 euros (per child or adult)
Opening times: closed Mondays and Tuesdays; open from 9:30 to 14:30h on Wednesdays, Thursdays and Fridays. Saturdays it is open from 10h to 18h, on Sundays from 10h to 14:30h.
Highlights
Kids are fascinated by the mosaics which represent scenes from the Iliad and various mythological deities such as Neptune. The carefully crafted model reconstructions in the visitors' centre give children an idea of what the site used to look like in Roman times.
The Enchanted Forest
(El Bosque Encantado, Camino de Marañones, 217, 28680 San Martín de Valdeiglesias, Madrid)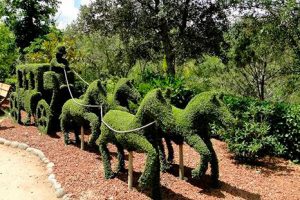 In the small town of San Martin de Valdeiglesias (75km from Madrid) there is a gorgeous botanical garden full of mazes, goblins, fairies and everything to excite young imaginations. This forest is a modern take on the centuries' old topiary tradition of Spanish history. A fabulous day out is guaranteed! Bring your own picnic and enjoy a relaxing time in a safe environment where the sound of birdsong rings clear through the air.
Practical information
Getting there:
By car: locals advise against using GPS as there are two roads with the same name in San Martin de Valdeiglesias and you may end up in the wrong place! Its best to follow the signposts and billboards from the first roundabout after exiting the M-501 at San Martin de Valdeiglesias. The forest is before you enter the town itself if driving from Madrid along the M-501.
By bus: catch the 551 bus from Principe Pio in Madrid and walk 1km from the first bus stop upon arriving in San Martin de Valdeiglesias to the forest following the billboard signage along the way.
Prices: 11 euros for adults and 8 Euros for children under 12.
Opening times: The forest is open from Thursdays to Sundays from 10:30am to sunset, which in the summer months is usually 10pm and in autumn is around 9pm. In the winter months the park closes at 6:30pm and in the spring at 8:30pm.
 Highlights: Full of tree houses and mazes, there is much to explore. Children are also fascinated by the tree sculptures crafted with great ingenuity by the most experienced topiary experts in Spain. Check out this video to see what is in store!
Aventura Amazonia
(two venues: Cercedilla and Pelayos)
There is a network of Aventura Amazonia adventure parks across Spain and Madrid is lucky to have two within an hour of the capital city. Teenagers on a day out often opt to go to the park in Cercedilla because it has good access by public transport. In the summertime the A6 road up to Guadarrama can get congested with day-trippers escaping the city to their cooler countryside summer houses, making the Pelayos park a more attractive destination for families travelling by car to enjoy a day out climbing among trees.
Practical information
Getting there:
CERCEDILLA: Parque Recreativo de las Berceas, Carretera de las Dehesas M-966, Km 3.9, 28470 Cercedilla, Madrid
By car: Take exit 47 on the A6 (signposted towards M-600). Drive through Guadarrama village and as you exit the village there is a right hand turn to M-622 Cercedilla. Take the M-622 for 4km and when you reach Cercedilla train station go up the hill towards the Careterra de las Dehesa. Look out for the Casa Cirilio restaurant as a landmark to make sure you're going in the right direction. The owners have promised new signage for 2019. Here's hoping!
By bus: The 684 line leaves Moncloa bus station every half hour to go to Cercedilla. The bus drops you off at the train station from where you need to walk uphill towards the La Dehesa esplanade, a meeting point for many tourists. It takes 30 minutes to walk from the station to the park along this popular pedestrian route which is an obligatory first step for all who visit Cercedilla on a day trip.
PELAYOS: Camino de la Enfermería, s/n, 28696 Pelayos de la Presa, Madrid
By car: Take exit 36 from the M-40 or the exit for Brunete from the M-50. From either exits you must follow signs towards to the M-501. Continue along M-501 to Pelayos. When you reach Pelayos take the right-hand exit from the second roundabout and then take another right to reach the park at 200m along that road.
By bus: Catch the Cevesa line of buses from Principe Pío to Pelayos de la Presa which leave on the hour, every hour. The nearest bus stop is the one which leaves passengers at the campsite. The park is 200m from the bus stop, behind the monastery.
Prices: the prices range depending on the age and height of the child and the route you decide to take. The Minikids package for children aged 4-7 years old starts at 15 euros per child and must be booked in advance, whereas juniors (under 16 and under 1.35cm) pay 20 euros per head and adults pay 22 euros (a day pass for those visiting but not climbing trees costs a nominal 1 euro per person).
Opening times: The parks pride themselves on being open every day of the year, come rain or shine. However there is one important caveat: you must book in advance in order to guarantee someone will be there to greet you and teach you the ropes (no pun intended). For either Madrid park ring 918 522546 Mon-Fri or 680 628 348 on weekends. Email enquiries can be sent to info@aventura-amazonia.com.
Highlights: the zip wires, the scramble net to be grabbed and climbed whilst suspended in mid-air, the high wire skateboard path between two trees and the Tarzan-style rope swings are all exhilarating fun. For more highlights, watch this video.
Discover places of Spain with this blog about things to do in regions of Spain.
Tell us about your favourite outdoor day trips from Madrid here! Also, be sure to check out our blog on the unusual cafes in Madrid and try those out with your family!