Looking for something interesting for your children to do after school during the long winter months? Madrid has a wide range of options for bright kids who are keen on sports, expressing themselves or being creative. Here are some of our favourites extracurricular activities for kids in Madrid!
Mindfulness
When: Wednesdays
Time: 17:30-18:15h
Where: English Escape, Francisca Moreno 3, 28009 Madrid (Metro Goya)
Ages: 3-8 years old
Price: 12 euros a class; 16 euros if they do mindfulness plus theatre straight afterwards (until 19h).
What to expect: In this class children are introduced to the idea of anchoring themselves in the present. They learn to identify and talk about their feelings. English Escape focuses on the concept that children are not their emotion and they can control how their emotions affect them. Children are offered fun exercises to practice different breathing techniques and learn to detach from emotions. A great way to practice English and make mental health a priority.
Cricket
When: Fridays during term time
Time: 18:30h-19:45h
Where: Colegio Cardenal Spinola, Calle Cardenalo Marcelo Spinola 34, 28016 Madrid (Metro Pio XII/ Duque de Pastrana)
Ages: 7-14 years old
Price: 15 € / month
What to expect: Madrid Cricket Club, in conjunction with the Club de Deportes Spinola runs special sessions that cater for beginners and experienced players using games and drills to teach the basic skills, then short matches to finish off each week. All equipment is supplied and they use special soft or semi-hard cricket balls so that pads and helmets are not required. For kids that have already played hard-ball cricket or are ready to move on to next level, they run additional net sessions at the Universidad Complutense.
More information: The first session is free, after which you can sign-up online via the Club de Deportes Spinola Web page.
Funky and hip hop dance classes for kids in Madrid
When: weekday afternoons at various centres across Madrid
Time: consult your nearest centre
Where: La Latina, Madrid Rio, Chamberi, Salamanca , Vicalvaro, Bernabeu, Sanchinarro, Arturo Soria
Ages: 3-10 years
Price: 144 euros per trimester
What to expect: Fun dance classes with a mix of international, English speaking and Spanish families where the children learn how to dance like their favourite artists to the most current (and least annoying!) tunes to hit the music charts. This is English immersion where language is not the focus and the kids learn how to communicate through dance.
Theatre in English for kids in Madrid
When: weekday afternoons at various centres across Madrid
Time: consult your nearest centre
Where: Puerta de Toledo / Argüelles/ Embajadores
Ages: 5 – 12 years old
Price: 50-60€ per month
What to expect: Theatre that helps children with their confidence and self-esteem. Children learn to overcome shyness and improve concentration in a relaxed environment where interpersonal communication skills are picked up spontaneously. All kids are welcome, from those who are native English speakers who have recently moved to Madrid to those who are at bilingual schools and want to use English outside the classroom! At the end of each semester the children put on an original play in English so that their parents can see for themselves how much their children have learned.
More information:
Option 1
Option 2
Contact Anthony or Veronica from Act Out via email.
LAE Kids – Spanish Classes for Kids and Teens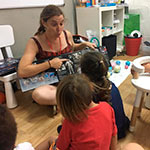 When: All year round
Time: Two or four hours a day
Where: Calle Montesa 35, escalera izquierda, 2do izquierda. 28006 Madrid
Ages: 5-17 years old
Price: depends on frequency of attendance
What to expect: Your children will improve and practice their Spanish through games and activities according to their ages and interests, within a well-structured pedagogical framework.  The classes are focused on real-life Spanish encouraging the participation of children while also building their confidence when speaking.
Robotics in English for Kids in Madrid
When: From
Time: consult your nearest centre
Where: Alcorcón / Valdemoro/ Las Rosas
Ages: 3-17 years old
Price: depends on age of child and frequency of attendance
What to expect: Robotics classes that are age appropriate, fun and educational. Starting with first steps classes for 3 year olds, the workshops become more complex as the children's age increases. It is possible to join at any age and learn from scratch with dedicated specialists who are passionate about exploring an interactive future through young people's eyes.
Check our Activities section for more extracurricular activities in Madrid.