During lockdown and the phased-in recovery to a new normality Kids in Madrid has kept in touch with the best child-focused educators who are based in the capital city. We are thrilled that so many of them have transitioned online so as to continue offering their classes and workshops via the internet. Here is a taste of what our top education services in Madrid are up to:
Spanish classes
LAE Kids are experts in Spanish classes for young learners (aged 4 to 13).  Their primary school qualified Spanish teachers know how to keep the children engaged both online and in classroom.  During the Covid-19 outbreak many of their students have been studying in the virtual classrooms using their immersive and interactive methodology.  The children have adapted to the technology and the format with the typical ease of most children!  The virtual environment has had an unforeseen benefit as it forces the children to speak more so they are seeing a marked improvement in the children's communication skills and confidence.
In a nutshell: A thriving community of qualified, experienced Spanish teachers giving structured classes in a fun way for children aged 5+.
When: check out the timetable here
Cost:  5 maxi pack (50 minute classes) or 10 pack (25 minute classes) – 150€
More information: "Our young learners have found it so easy to adapt to learning online. 25 minute Spanish classes for children age 8 and under and 50 minute classes for 9 to 14 year olds seems to be the sweet spot where everyone is engaged and having fun." Write to info@laekids.com or send a WhatsApp message to +34690828957 and they will send you further information.
Playtime
Kids English Club are offering Zoom sessions to coincide with recess times on schooldays, with great success. For half an hour the children log on and play fun games, have a laugh and practice their English in a dynamic, child focused, relaxed environment. This isn't class! This is play time!!
In a nutshell: Have fun and speak English during break time.
When: 12:00-12:30 Mon-Fri Virtual Recess 7-12 year olds
12:30 – 13h Mon-Fri Virtual Recess 4 – 6 year olds
16:30-17h Mon- Thurs English class for 7-9 year olds
17:45-18:30 Mon – Thurs English class for 10 to 12 year olds
Cost: Subscription basis, with pupils signed up at the academy receiving free access
More information: Becky Gaspar and her team are experienced English teachers who have built up a solid community of friends and pupils. Write an email to contacto@iberenglish.es to request a Zoom link and join the gang. You won't regret it!
Theatre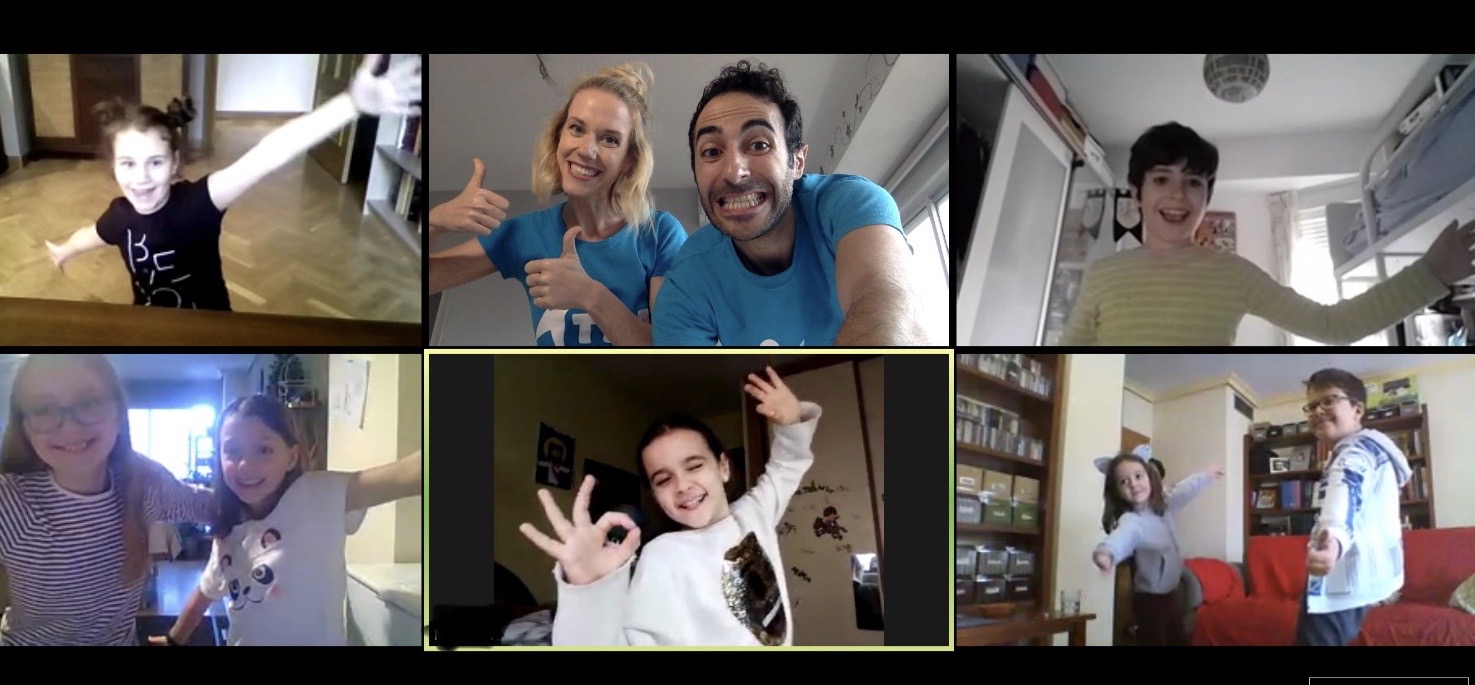 Act Out are offering online theatre classes for children aged between 4-10, with quite amazing results. Director Tony Rotsa spoke to Kids in Madrid recently and said how delighted they were at the reaction from the children taking part:
"We are having a lot of fun, it is working so well! now that we are online, we are finding that the kids are interacting and learning in a fun and new way!" 
 In a nutshell: Kids have the chance to practice English in a games-based, interactive and fun online workshop with an expert team of Madrid-based actors.
When:  They have live taster classes every Wednesday at 18:30 on their Instagram page @actouttalleres. They are currently offering a giveaway of a full month of free online classes. All you have to do is follow their Instagram page, tag 2 other people who you think would be interested in the giveaway and share the post to your stories. They will announce the winner on Wednesday 6th May at 18:30 during their live class.
Cost: They have various packages depending on the number of weekly classes you are interested in.
More information: Watch this video to meet the team and send them an email to enrol your children on this fun acting adventure from the luxury of your own homes.
Dance
Joy of Dance have moved online with streamed on-demand video workshops and live classes with the teacher joined via video by an excellent pianist, from New York, providing wonderful improvisation that truly brings the session to life. Students and newcomers aged between 2-6 years old are enjoying hours of age-appropriate choreographed movement that helps keep them swinging and smiling.
In a nutshell: Sign your youngster up for interactive dance sessions in English and watch them love every minute!
When:  Tuesdays & Saturdays at 18:00 for Live Classes, and whenever you like with the videos.  Sign up HERE to receive the links for LiveOnline via Zoom and Classes on Your Own Time with videos. You can even repeat the lessons over and over!
Cost: By donation in order to support these hard working educators, while not excluding the children of those who have lost their means of income (pre-lockdown averaged at 10 euros a class)
More information: You can read more about Joy of Dance here.  Follow them on Facebook or Instagram! Look out for JoyofDanceLiveOnline for latest news and reviews.
Storytelling
La Hora del Cuento has two online offerings aimed at Primary School and Kindergarten/ Infants teachers who may be missing the input they used of have of their native English-speaking classroom assistant or had planned a visit to an English speaking theatre or activity, now impossible due to lockdown. Working closely with the teacher to cover individual needs of the kids in the class, La Hora del Cuento is successfully delivering virtual workshops and storytelling in English during school hours. Although they are looking forward to returning to their interactive story workshops and escape rooms in person at the beginning of the next school year, the La Hora del Cuento online experience is a fantastic and fun way to motivate children in English.
In a nutshell: workshops to celebrate la semana cultural en inglés with primary schoolers online
When: a bespoke service to be coordinated with the class teacher or AMPA
Cost: Competitive prices depending on length and number of sessions available on request
More information: Parents and teachers are encouraged to get in touch with Katharine Cannings to find out more before all the slots are taken! If you want to see them in action, check out this video where Tess tells the story of the Three Little Pigs… and a Big Bad Wolf!
Flamenco, funky and ballet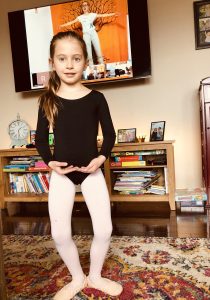 Hello! Creative Movement in English are offering online ballet, funky and flamenco classes every afternoon for pupils who attended classes at one of their many centres across the city. Newcomers are welcome too – in fact, the majority of the children taking part at the moment are new students who have been unable to join until now because of timetable clashes etc. Families are making the most of lockdown to let their kids try out new things, activities that have long been on the to-do list.
In a nutshell: kids of all ages are dancing around their living rooms and practising English during these live online dance classes
When: twice a week: Tue/ Thurs or Wed/Sat.
Cost: 20 euros for four classes
More information: check out their Facebook page and Instagram account or write to them info@helloenglishmadrid.com. The group sizes are limited meaning that the teacher interacts with all students and provides live feedback.
Bonus for Parents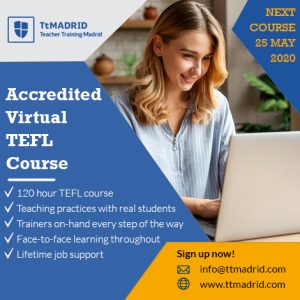 Teaching English Certificate!
If you're looking to get a certificate that will help you find work anywhere in the world, then TtMadrid's much-loved TEFL programme is now available online. With a practical focus on online classes, as well as teaching kids, you'll be set to start your new career in just six weeks.
Let us know of any other Madrid-based children's activities that have moved online during the Covid-19 outbreak. We are always on the look out for local talent to promote here on Kids in Madrid!
ᐧ