With the coronavirus lockdown causing changes to regular check-ups, ultrasound appointments, antenatal classes,  and other support networks usually open for business in Madrid, those pregnant mums in our midst are facing challenges only compounded by the fact that we are foreign nationals with Spanish as our second language. That's why we prepared some practical pointers for being pregnant in Madrid that might come in handy!
Getting appointments
Despite all non-urgent appointments being cancelled until after the coronavirus epidemic subsides, pregnant women are still being seen and the utmost care is being taken to make sure they do not expose themselves to the virus when attending appointments. Pregnant women are advised to go to check-ups alone, although some health centres allow partners to stay in the waiting room while the check-up is taking place. Follow this link (information only in Spanish) to set up appointments online.
Antenatal classes
Most English-speaking first-time mums giving birth in Madrid turn to the private sector to provide them with antenatal classes in their mother tongue. Here at Kids in Madrid, we recommend contacting Bel & Mums or Hypnobirthing Madrid for the best attention during these times of crisis. Both Belen Chocano and Elisabeth Tallon-Banks offer classes online. Another trusted provider with many English-speaking professionals is the International Women's Health Center Madrid.
Where to give birth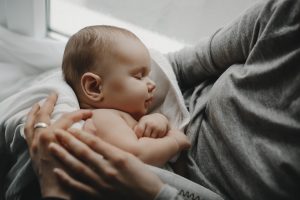 Measures taken by coordinated health services in Madrid to minimize the risk of infection during birth include channelling all births to four main hospitals around the capital city. Click here to find out which hospital corresponds to the area of Madrid that you live in.
For those readers who speak Spanish, the best online resource supporting our right to a natural birth during the Covid-19 lockdown is El Parto es Nuestro who have long advocated for better perinatal care in a country famous for overly medicalised births. Everyone has the right to a companion of choice, and everyone has the right to the birth position of choice, even during the Covid-19 crisis.
Breastfeeding and new-born childcare
The World Health Organization has provided a detailed Q&A on Covid-19 including sensible advice on how to breastfeed if you are showing signs of Covid-19. New-born childcare is considered essential and therefore uninterrupted paediatric services are being provided across the Comunidad de Madrid, although not necessarily in your health centre of reference. Check here to find out which number you are to ring and where you are likely to be seen.
Paperwork
First appointments for registering births, obtaining a health card for your baby, and adding your child to the padrón (census) are continuing as usual during the crisis. Births are registered in person by one authorized adult (parent or representative) at the Registro Civil on Calle Pradillo 66, 28002 Madrid between 9am and 2pm, no appointment required. Health cards are being issued by local health centres and you can add your child to the padrón over the phone by ringing 010 and requesting assistance in English. This free telephone service is run by the local government and the phone operators really do bend over backward to help.
Parents showing solidarity
If you are reading this and feeling for those brave foreign Mums who are facing pregnancy in Madrid during the pandemic, there are practical steps you can take to provide them with support. You can buy gift certificates from Bel & Mums or Hyponobirthing Madrid for these women. You can also make a donation to Fundación Madrina to help them support vulnerable pregnant women in Madrid, many of whom are displaced individuals and refugees.
Please remember, you are not alone… we at Kids In Madrid have a thriving online community that you can rely upon too. Get in touch!