For a comprehensive introduction to how the education system works in Spain, look no further than this online guide. For the Brits among us, it is important to bear in mind that state schools in Madrid are called colegios publicos in Spain. Independent public schools (as known in the British education system) are called colegios privados. State-supported private schools, where fees are much reduced and which are often faith-based, are known as colegios concertados.
One of the most reassuring aspects of moving to Madrid as an English-speaking family is the fact that for over ten years the Comunidad de Madrid has been carrying out an ambitious campaign of bringing bilingualism into the classroom from the age of 6. With over 360 state primary schools and 110 state secondary schools offering bilingual education in the community of Madrid – not to mention the numerous state-supported colegios concertados with the same curriculum – it isn't difficult to find a school where English is used in the classroom on a daily basis. This makes getting to grips with the Spanish curriculum easier for those children who may have begun their education abroad at a school where English was the language of instruction. Likewise, those parents who are only here for a couple of years can be reassured that their children will learn how to study in English as well as in Spanish whilst at school here.
Should you try language immersion or not?
Language immersion is encouraged at public schools by the Department of Education in Madrid who provide practical support for families in this situation including in-class translation services for minority languages at online guide across Madrid. Regardless of whether you apply for a public or a private school, students aged between 7 and 12 who are not Spanish speakers are allowed to enrol in classes below their school age so that they have an easier transition into the education system.
The decision about whether to try language immersion depends on several factors: how long you plan to live in Madrid; how old your child is; whether they adapt well to change and what the language of instruction has been thus far. Sometimes it is better to keep them in English education and enrol them for Spanish classes at specialist language schools such as LAE Kids where they will become fluent in no time without it affecting their basic primary or secondary education.
Applying for a school place in state or state-supported school in Madrid
All applications for Primary and Secondary education (6-16 years) within the Comunidad de Madrid for the school year 2018/2019 at a public or state-supported centre must be made using this form. Although ordinary applications were supposed to have been made between the 5th and 19th of April 2018, with formal registrations at the schools taking place between the 15th of June and the 7th of July 2018, the Department for Education for the local community of Madrid provides a service all year around for children who move to Madrid from elsewhere, as well as for those children who need to change schools throughout the year due to other circumstances. The contact telephone number to begin finding out information about how to apply is 91 580 4260. There is always an English-speaking telephonist nearby or they will take down your details to ring you back. It is also possible to "chat" with them following this link.
Private schools in Madrid that offer an international curriculum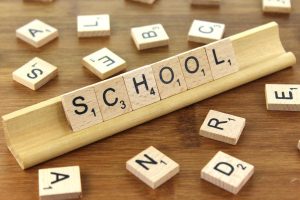 If you decide it is better to allow your child to continue with the same curriculum as in his or her previous country of residence, this map created by Pierre Alban-Waters from Moving2Madrid is a helpful overview of the geographical location of the majority of schools offering British, American or international education  in Madrid. Although most are found in the suburbs, these schools all lay on bus routes to pick up pupils from around the city. Note that applications to private and international schools should be made in advance as many schools have waiting lists. Private schools are not tied to the strict timetable set by the Comunidad de Madrid for applications. Check out this list containing all the private schools in Madrid, with links to their websites.
If you have any questions, please leave a comment below or get in touch to give us some of your tips.