Like every cosmopolitan capital city, Madrid has a wide range of cafeterias to suit all tastes. From the ubiquitous corner bars offering café con leche at all hours of the day or night, to famous, culturally significant cafes such as Café Gijón and Café Comercial, Madrid really can be toured from cafeteria to cafeteria. For those coming with children, though, there are a handful of unusual cafes in Madrid that families love to visit whilst in town. Here are some of our favorites.
Cereal Hunters
A café-bar where you can enjoy bowls of cereals from all over the world
Location: several venues dotted around the city centre, close to Metro stations such as Goya, Gran Via and Alonso Martinez. Check website for precise locations.
Opening hours: Most of the Cereal Hunters cafes in Madrid open from 9am to 10pm on weekdays and from 10am to 10pm on weekends, but it is best to check with the individual venue if you are thinking of visiting off-peak as some close from 2pm-4pm for staff breaks.
KIM review: as expat parents bringing up bicultural children in Madrid, there is something incredibly refreshing about going to Cereal Hunters and exposing them to the delights of breakfast cereals from "home". Nostalgia, homesickness and downright fun mingle in the air which is full of laughter. The prices are reasonable, the service is friendly and multi-lingual and there are options for all sorts of allergies. A word of warning: these venues can get particularly busy on weekday afternoons with Spanish families choosing to treat their youngsters to a bowl of cereal as the afterschool snack.
Pim Pam Kids
A gastrobar that offers weekend children's menu & entertainment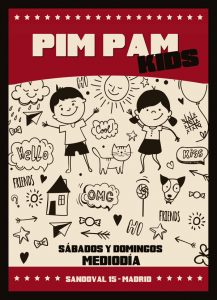 Location: Calle Sandoval 15, Madrid – close to San Bernardo Metro station (line 4).
Opening hours: From midday to midnight, with children's entertainment offered on Saturdays and Sundays from 15-17h.
KIM review: this is the ideal weekend lunch venue to visit with friends who have small children too. The food is excellent and there is a children's menu with plenty of choice for small people's appetites. Just as the conversation is getting interesting and children start getting agitated, the staff open a special play area where the youngsters can go and be entertained between 3 and 5pm so that parents can enjoy a pleasant coffee and after meal chit-chat safe in the knowledge that their children are being supervised. There is no extra charge for this service.
Dogger café
A vegetarian café run by a dog shelter which lets you cuddle puppies
Location: Calle los Mesejo 14, 28007 Madrid – close to Metro Pacifico (lines 1 and 6)   
Opening hours: Tuesdays to Sundays from 10 am to 8pm: strictly by appointment only: bookings via Instagram or email cafe@thedoger.com (English spoken).
KIM review: despite being off the beaten track and somewhat challenging to book an appointment (tip from KIM: send them an e-mail rather than try navigating their online booking system), this new cafeteria is fast becoming a hotspot for families looking for a fun activity to do with their children in the wet winter months. Although offering good food and hot drinks it is safe to say that the main attraction isn't the food but the pets.  Dog-lovers flock to Dogger café to meet the abandoned pet dogs that are seeking new homes. The clientele is of mixed ages, races and walks of life but with one shared passion: caring for dogs!
Gatoteca
For tea-drinking cat lovers of all ages!
Location: Calle Calle Argumosa, 28, 28012 – between Metro Lavapies (line 5) and Metro Atocha (line 1).
Opening hours: Mondays from 5pm to 8:30pm, Tuesdays- Sunday: 11am to 10pm, bookings recommended, but not obligatory. To book please fill in this online form or call 91 6225831 to confirm.
KIM review: Although not strictly a cafeteria, tea and coffee is served at the Gatoteca and soft drinks are available for kids. The main attractions are obviously the cats themselves and believe us when we say that these cats need lots of attention! When we were there a couple of University students were making the most of the free Wifi and ample space to study and enjoy cat cuddles at the same time. It is a buzzing environment run by a well-established not-for-profit organization.
Do you know of any other fabulous child-friendly cafes in Madrid? We'd love to hear from you on our Instagram or Facebook pages! And if you're looking for more family-friendly restaurants in Madrid, be sure to check our previous blog!