Moving to Madrid with young kids can be a daunting experience and there will be times when homesickness casts a temporary shadow on the adventure. Fear not! Here are some practical tips on how to deal with homesickness that you can implement to help overcome the yearning for home.
Treat homesickness as a positive experience
When your children (or you) begin to remember how your school routine used to be when you lived in your previous home or how your neighbours used to chat with you on the way back from piano class, ask the kids to think about all the good things they remember about that routine or those people. Create and encourage these happy memories without slipping into comparisons. Then remind your children that the reason these happy memories exist is because you are currently feeling homesick and that is OK because nothing is going to take those recollections away. Remembering how happy they were in their old homes makes you, as a parent, glad.
Don't feel guilty about uprooting your family
Cross culture Intelligence, Talent and Careers advisor Marielle de Spa puts it succinctly: "Assimilate the fact that you are providing a unique opportunity for your children to become equipped with an array of benefits and skills such as becoming more open-minded, resilient and flexible as well as more culturally intelligent, tolerant, empathic and adaptable. Besides acquiring all these positive skills for their future lives and careers, your children will also learn how to become more objective about different cultures and value the positive aspects they are missing from their home country".
Eat familiar food
In Madrid we are spoilt for supermarkets with special aisles dedicated to international brands. Both Hipercor and Carrefour are magnets for parents seeking breakfast cereals, soft drinks, spreads and condiments from back home. Several branches of Taste of America dotted across the city and outskirts cater particularly to the English-speaking diaspora and is the place to go when seeking Halloween, Christmas or Easter goodies. Pubs such as the Irish Rover are incredibly family-friendly and do roast dinners reminiscent of home. There are several Indian restaurants to find great curries for family dining, our favourite child-friendly establishments being Sagar and Everest.
Find your tribe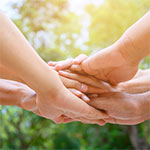 Experts agree that Madrid is one of the best cities in the world for expats. Biased though we may be, we can guarantee that this city is great place to live with kids. Leisure time can be filled with statue-hunting around the capital or wandering around the many beautiful parks. However our advice would be to start off by meeting other expat families in Madrid. There are English-speaking playgroups, there are interactive English speaking children's theatre shows and you can even network in English with the International Newcomers Club of Madrid. Once you are more settled you can reach out to the madrileños around you and show them your vulnerability to create empathy. Trust us, Spaniards are full of admiration for families like ours and madrileños especially have a welcoming heart.
Homesickness affects adults too
Although received knowledge among expats states that once you've lived abroad, you are never at home anywhere, nobody doubts that bouts of homesickness can hit when least expected. For many of us, we started to become homesick after giving birth in a foreign country. For others, it is when elderly parents "back home" pull on heartstrings and there is a deep desire to be closer to them. Repeating to yourself that you are rootless and free is not a panacea mantra for those suffering from homesickness.
Madrid-based experts
If you would like to talk to professionals with first-hand experience who are based in Madrid, we recommend contacting global mobility expert Marielle de Spa mentioned above, who is founder of Third Culture Capital and whose wisdom about third culture families has helped many of us across the globe. Another excellent source of advice, companionship and guidance is the multilingual therapy institute Sinews that has been providing practical help for newcomers and long-term expat residents for over 15 years. Contact them for more information about their family workshops.
And don't forget that here at Kids in Madrid you have a community of likeminded parents who are active on Facebook and would be happy to support you.